Cooper's Castle

Recipes


Coop's NC Vinegar BBQ Sauce
1 cup apple cider vinegar
1/2 cup water
1 teaspoon black pepper
1 tablespoon salt
1 teaspoon paprika
1 tablespoon ketchup
1 tablespoons lemon juice

In a saucepan, mix everything together, simmer on stove until good and hot.
Take off stove let cool down. Put in a bottle for serving. It is ready to go.
great on pulled pork
Scott got hooked on the NC BBQ Sauce and made his own.

Joanie's English Bread Pudding
3/4 of small wheat loaf of bread (or 1/2 if large slices)
1/2 cup marmalade
1/2 cup flour
1 tbsp allspice
1/2 cup sugar
3 cups of milk
3 eggs
2 cups raisins
Soak bread in milk, enough to stay wet
Add the remainder of ingredients to bread and stir well
Pour into greased pan and bake at 350 degrees for about 45 minutes
Test top of bread with fingers...if dry and firm test with toothpick
If toothpick comes out clean, it is done.

Deb's Chocolate Caramel Nut Bars
1 package (18 oz.) devil's food cake mix
3/4 cup butter or margarine, melted
1/2 cup milk
60 vanilla caramels
1 cup cashew pieces, coarsely chopped
1 cup semisweet chocolate chips
Preheat oven to 350 degrees. Grease 13x9" baking pan. Combine cake mix, butter and 1/4 cup milk
and mix. Press half of batter into bottom of pan. Bake 7-8 minutes or until batter forms a crust.
Combine caramels and remaining 1/4 cup milk in saucepan and cook over low heat for about 5 minutes
or until caramels are completely melted. Stir often.
Pour melted caramel over baked crust. Combine cashews and chocolate chips and sprinkle over caramel.
Spoon remaining batter evenly over nut mixture. Throw a few more cashews and chocolate chips on top.
Bake for 18-20 minutes. Cool for at least an hour before cutting.

Zena's Pumpkin Bars
2 cups of flour
1 cup chopped walnuts
2 cups sugar
2 tsp. cinnamon
1 cup oil
1 tsp. nutmeg
1 cup pumpkin (whole 16 oz. can)
1 tsp. allspice
4 eggs
1 tsp. pumpkin pie spice
1 tsp. baking soda
1 tsp. baking powder
Beat all ingredients above together in a large mixing bowl. Pour into an ungreased
large cookie sheet pan with sides.
Bake at 350˚ oven for 20 – 30 minutes, times may vary.
Frosting:
3 oz. cream cheese (lite or regular)
¾ cup cutter
1 tsp. vanilla
2 cups powdered sugar
Beat all ingredients together until there are no lumps, spread onto cooled bars.

Dawn's Blueberry Nut Crunch
Layer pineapple on bottom of pan with juices
Layer blueberries over pineapple
Layer 1/4 cup sugar
Layer yellow cake mix
Drizzle butter over cake mix
Layer 1/4 cup sugar
Sprinkle with nuts
Bake at 350 degrees for 20 minutes
Poke holes to bring juices to the top (edges and middle)
Bake for another 25 minutes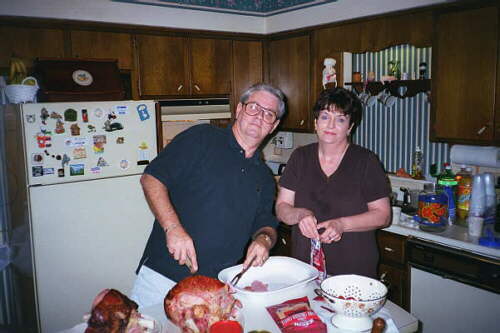 Give us your favorite recipe to post
Yummy!!!!