Cooper's Castle

Farewells

This page is for pictures of our friends & family that have passed on.
I left this page silent.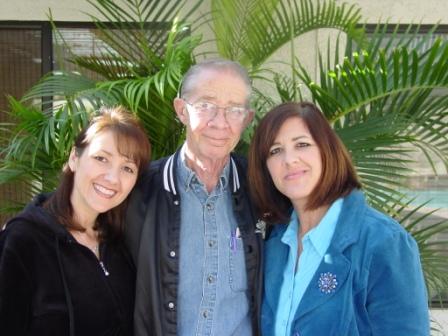 Dave Slack
(Deb's Father)
Deb's Father, 64, passed away September 1, 2007. His ashes are in a mausoleum at the Readon Cemetery in Simi Valley.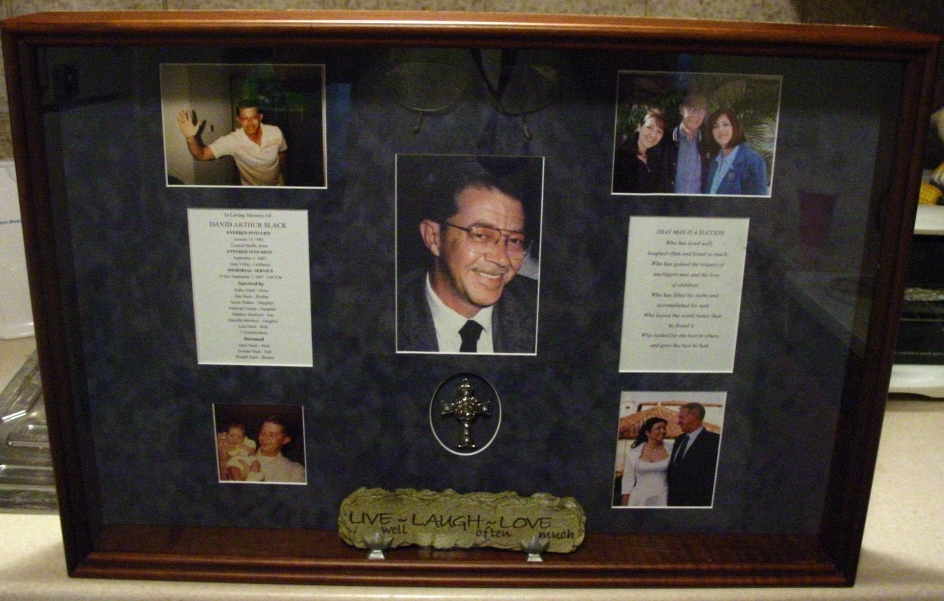 This is the shadow box Deb had made on memory of her father.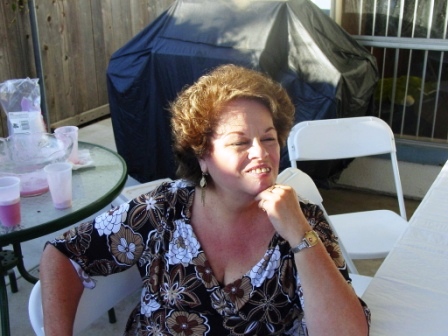 Mary Lou
(Deb's Aunt)
Died on September 5, 2007 and is laid to rest at the Santa Clara Cemetery in Oxnard.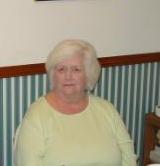 Lily J. Cook
(Scott's Aunt)
Lily J. Cook, 67, passed away September 18, 2006. Born in London, England on May 23, 1939, she resided in Jacksonville for the
past forty-two years, and is retired from K.C. Barbeque. She leaves to cherish her memory four sons, Russell of Ft. Lauderdale,
Shawn, Joseph (JoAnna), and Troy (Brae) all of Jacksonville; two sisters, Iris Wilkinson (Wilber), and Joanie Thompson
(Dennis) both of Jacksonville. Three grandchildren, Justin, Julia and Tiffany Cook; and many relatives in the U.S. and
England. The family will receive friends for the Visitation on Friday, September 22, 2006 from 6-8pm at the Hardage
Giddens Funeral Home, 729 S. Edgewood Ave. Funeral Services will be held here in the Chapel on Saturday,
September 23, 2006 at 11am. Internment will follow in Long Branch Cemetery.

James M. Thompson
(Scott's Step Grandfather)
Sept. 27, 1922 - November 21, 2005
A service will be at 11 a.m. Tuesday, Nov. 29, 2005, in Willamette National Cemetery for James M. Thompson,
who died Nov. 21 at age 83. Mr. Thompson was born Sept. 27, 1922, in Vicksburg, Miss. He served in the Navy and
Air Force. He lived in Sherwood for 35 years and worked for the U.S. Postal Service. In 1955, he married Evelyn J. Stichler.
Survivors include his wife; daughters, Nancy J. Conklin and Darcie L. Thompson; sons, C. Dennis and C. Conrad;
two grandchildren; and three great-grandchildren. Remembrances to the Cat Adoption Team in Sherwood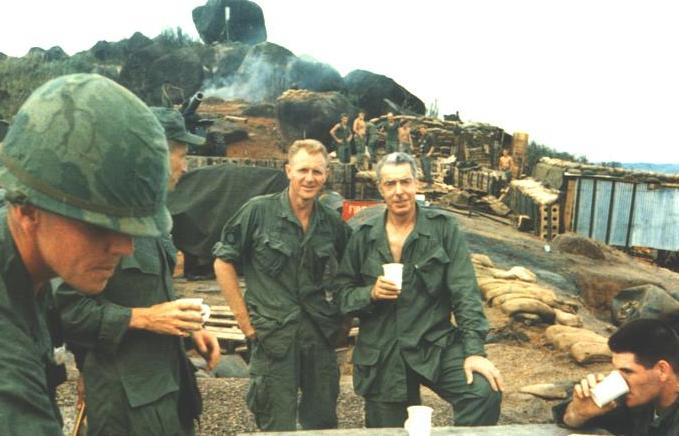 Scott's Uncle Charlie (Left) Standing next to Joe Dimaggio (baseball player) in Vietnam
Charles Alfred Ruby
(Scott's Uncle)
Charles Alfred Ruby , 73, born in London, England, residing in Radcliff, Kentucky , died July 14, 2004, at Hardin Memorial
Hospital in Elizabethtown, Ky. He was a member of Radcliff Church of Christ, Civil Air Patrol, Disabled American
Veterans and the Radcliff Model Railroad Club. He was a retired Sgt. Major from the U.S. Army, a decorated veteran
of the Vietnam and Korean Wars, as well as a veteran of the Royal Army Artillery Corps. He was preceded
in death by his fist wife Yong Suk Ruby. Survivors include his wife, Kum Ye Ruby; three daughters,
Sandra Bruner and her husband Scott of Fairfax, Va., Pamela Pierson and her husband Charles of Arlington, Tx.,
and Jong Sook Kim-Envel of Stockholm, Sweden; a son, Choi Pak of Radcliff, Ky.; three sisters, Iris Wilkinson,
Lily Cook and Joan Thompson, all of Jacksonville, Fl.; and four grandchildren, Katherine Bruner, Holley
Janae Pierson, Charles Bruner and John Carl Pierson. The funeral was held at 2 p.m. on Sunday, July 18, 2004
at Nelson-Edelen-Bennett Funeral Home in Radcliff with Pastor Don Brunnell Officiating.
Burial was at the North Hardin Memorial Gardens in Radcliff with full military honors.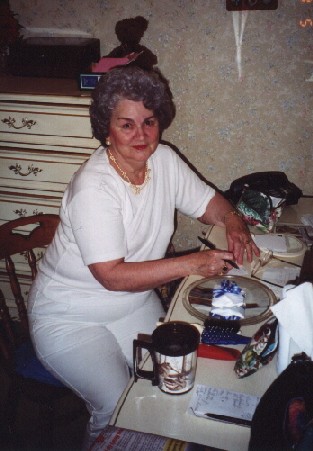 Scott's Grandmama
Lela Bay Jorden
Passed away on October 9th, 2003 in Roseville, Ca. She was born on Oct.
30th, 1928 in Forsan, Texas. She is survived by her loving husband Carl
Jorden, Jr., Children Dennis Thompson (Joan), Harvey Harris (Angie), Arlinda
Fish (Ray), Eileen Hines, Lorraine Hutchinson and Carl P. Jorden III. She
will also be missed by many grandchildren, great grandchildren, other family
and friends. Funeral services were held on Saturday Oct. 11th, 2003 with
internment following at Calvary Cemetery in Sacremento, California.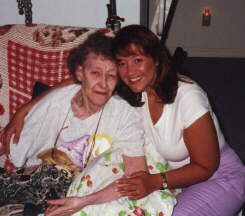 Deb's Grandma Slack
Janet E. (Edquist) Slack
December 13, 1921 - March 2, 2003
Age 81 years
She will be missed by all. We love you Grandma.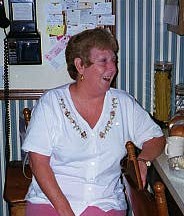 This is for our Aunt Pam (Scott's Aunt).
Pamela Jean Newman
NEWMAN Pamela Jean Newman, 56, of St. Augustine, FL., died January 27, 2003 at Flagler
Hospital. She was born Lewisham Park, London, England, and had resided in St. Augustine
since the late 1970s, moving here from Jacksonville, Florida. She loved her cats
and was an avid Chicago Cubs Fan. She was a member of St. Andrews Charismatic
Episcopal Church. A memorial service will be held at 2:00 PM on Saturday, February
1, 2003 at St. Andrews Charismatic Episcopal Church with Father Joe Butler, Vicar,
officiating. Flowers are gratefully declined and those wishing may make a donation
in her memory to: The Scleroderma Foundation, 12 Kent Way, Suite 101, Byfield,
Mass. 01922. She is survived by her sisters, Iris Wilkinson and her husband Wilbur,
Lilly Cook, Joan Thompson and her husband Dennis, all of Jacksonville; a brother
Charles Ruby and his wife Kumye of Radcliff, Kentucky; her soul mate, Jeanie
DAmore of Jacksonville; a brother-in-law, Gus Maciborski of England; several
nieces and nephews in the states and in England, and a host of friends. She was
preceded in death by a sister, Yvonne Maciborski.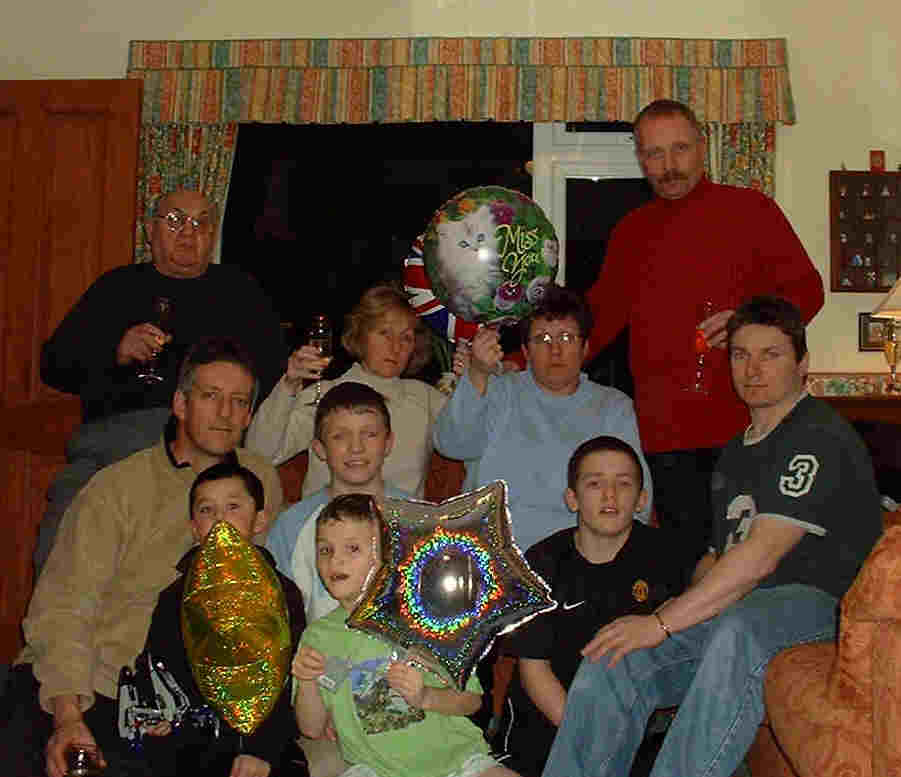 A photo of her family from England, a final farewell.

Also the loss of
Tawnya Cooper
(Scott's cousin)